case specials buy 5 get one free gingle bells & bottles
We will be taking a quick break 24/12/22 to 3/1/23 you can still order and it will be send tuesday 3rd January 2023 thanks lee and the team
We also Supply Liquor stores, corporates & gift co
Terms & conditions apply. Licence required for reselling alcohol.
Six Unique Flavours infused with Australian Gin
To make Gingle Bells we start with an Australian Dry Gin made in our own distillery.
The gin is then infused with our botanicals in small batches to create something very special. Six unique, colourful and all natural gin baubles laced with a silver ribbon.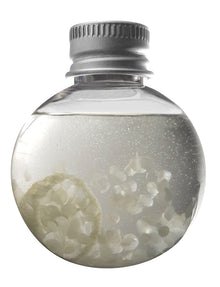 Finger Lime Gin
54ml 37% ALC/VOL
Just like your very own Gin filled snow dome! Shake this bauble hard to release the little lime juice balls from the finger lime so they float around like snowflakes. Grown on our farm at Kurrajong Heights this makes the best Gin & Tonic The Gin-F-Bomb. The balls dance up and down with the bubbles and pop in your mouth like a little bomb when you bite them.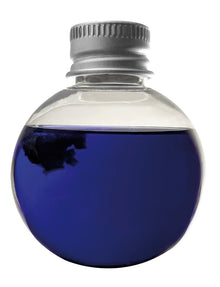 B'Lure Butterfly Pea Flower Gin
50ml 40% ALC/VOL
A magical deep blue Gin infused with Butterfly Pea flowers grown on our plantations in northern Thailand. This gin will make blue cocktails which turn pink and purple when you add lime juice. Use this bauble to make the spectacular Purple Rain Cocktail. Or simply add to tonic water and ice for two mysterious dark purple drinks.
Wattleseed Gin
50ml 40% ALC/VOL
An earthy gin with chocolate and hazelnut notes distilled with native Wattleseed from the Australian Outback. The flavour is perfectly suited for espresso martinis. Make 2 Wattleseed Express cocktails.
Snow Chrysanthemum Gin
50ml 40% ALC/VOL
This burnt orange bauble has captured the sunshine to make an incredibly complex and aromatic Gin. These flowers grow in the Kunlun mountain range at elevations above 3000m in Tibet. A Gin connoisseurs favourite to sip on the rocks contemplating life or make our Temple of the Sun Cocktail.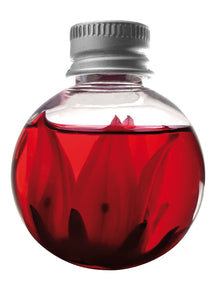 Wild Hibiscus Flower Gin
54ml 37% ALC/VOL
Our signature flower lovingly grown, handpicked and magically encased in this gorgeous bauble. Grown on our plantations in southern Malaysia, it's almost too pretty to imbibe! Save the hibiscus bauble for last to make 2 Rise 'n Shine Prosecco cocktails
Pepperberry Gin
50ml 40% ALC/VOL
This antique pink bauble gets its wonderful colour and hot spiciness from Australian native Pepperberries which grow on a small rainforest bush at our farm in Kurrajong Heights. Make a Berry Pepper Kiss cocktail with muddled strawberries and basil. Top with a Pepperberry but careful –they bite!
Cocktail Guide in every box
Signature Cocktail Recipes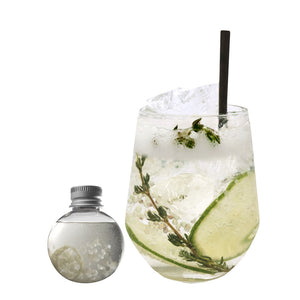 F-Bomb Gin & Tonic
50ml Gingle Bell Finger Lime Gin
10ml 1/3 oz lime juice
100 ml / 3.4 tonic water
Shake the bauble like hell (bang it bop it etc) to separate the balls from the skin. Pour gin over large ice cubes in high ball glass & shake out any remaining balls.  Top with tonic water and garnish with lime slices and sprig of thyme.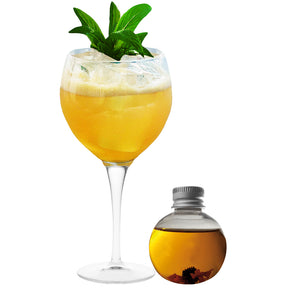 Temple of the Sun
50ml Gingle Bell Chrysanthemum Gin
15ml / ½ oz lemon juice
1 fresh passionfruit pulp
30ml / 1oz coconut water
20ml / 2/3 oz simple syrup
Shake ingredients well with ice.  Strain into wine glass filled with large ice.  Garnish with sprig of mint.
Purple Rain
50ml Gingle Bell Butterfly Pea Flower Gin
1 medium kaffir lime leaf plus 1 for garnish
30ml / 1oz simple syrup
15ml / ½ oz lemon juice
7.5ml / ¼ oz lime juice Soda water
Roughly chop kaffir leaf then muddle in cocktail shaker with juice.  Add syrup and shake without ice to mix and set aside.  Fill a high ball glass with crushed ice, blueberries and kaffir lime leaf to garnish.  Add gin bauble and fill glass ¾ full with soda water.  Gently strain in the lime mixture on top – Magic! 
Rise n' Shine
50ml Gingle Bells Hibiscus Gin
15ml / ½ oz lemon juice
30ml / 1oz chilled pineapple juice
7.5ml / ¼ oz simple syrup
Shake ingredients with ice.  Strain evenly into two champagne glasses.  Top up glasses to ¾ full with sparkling Italian Prosecco. Garnish with lemon rind.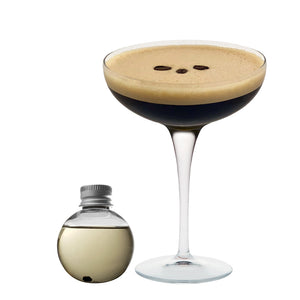 The Wattleseed Express
50ml Gingle Bells Wattleseed Gin
30ml / 1oz Kahlua/coffee liqueur
30 ml / 1oz espresso coffee.
Shake ingredients well with ice.  Strain into 2 martini glasses. Garnish with coffee beans.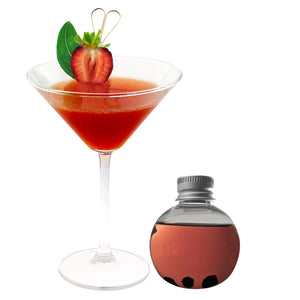 Berry Pepper Kiss
50ml Gingle Bell Pepperberry Gin
3 medium ripe strawberries
3 small basil leaves
7.5ml / ¼ oz lemon juice
2 teaspoons granulated sugar
Muddle strawberries, sugar and basil leaves for 1 minute.  Add ice, lemon juice and gin and shake for 30 seconds.  Strain into cocktail glass and garnish with slice of strawberry and basil leaf.
Follow Us
Some snippets from our social media pages.
Gin Palooza Sydney, Perth, Adelaide & Canberra
Visit us at the 2021 Gin Palooza's we will be at all 4 this year:
Adelaide 19-20 June 2021
Perth 6-7-8 August 2021
Sydney 19-20 November 2021
Canberra 4-5 December 2021
Learn more
Please Drink & Decorate Responsibly
Liquor Act 2007
It is against the law to sell or supply alcohol to, or obtain alcohol on behalf of, a person under the age of 18.
Storage
Gingle Bells Baubles contain alcohol and must not to be stored close to open fires or flames.
Keep Gingle Bells Gin Baubles out of the reach of children and pets. 
Adults Only
Do not give Gingle Bells Gin Baubles as gifts to anyone under the legal drinking age as they contain alcohol.